AUDIO
VÍDEO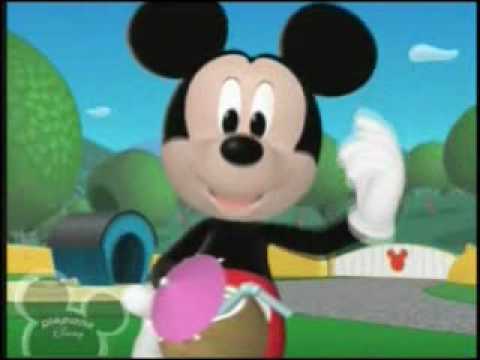 Hi Everybody, It's Me Mickey Mouse
Say, You want to come inside my clubhouse?
Well All right!
Let's Go!
Ooh, Ooh…
I almost forgot
To make the clubhouse appear
We get to say the Magic Words!
Meeska
Mooska
Mickey Mouse
Say it with me!
Meeska
Mooska
Mickey Mouse
M – I – C – K – E – Y
M – O – U – S – E
That's Me!
M – I – C – K – E – Y
M – O – U – S – E
It's the Mickey Mouse Clubhouse
Come inside, It's fun inside
It's the Mickey Mouse Clubhouse
Roll Call!
Donald
Present!
Daisy
Here!
Goofy
Here!
Pluto
Woof, Woof
Minnie
Ooh, Here!
Mickey!
Right Here!
It's the Mickey Mouse Clubhouse
Come inside, It's fun inside
M – I – C – K – E – Y
M – O – U – S – E.
More information Mickey Mouse
Mickey Mouse is a funny animal cartoon character and the official mascot of The Walt Disney Company. He was created by Walt Disney and Ub Iwerks at the Walt Disney Studios in 1928. An anthropomorphic mouse who typically wears red shorts, large yellow shoes, and white gloves, Mickey has become one of the most recognizable cartoon characters in the world.
Mickey first was seen in a single test screening (Plane Crazy). Mickey officially debuted in the short film Steamboat Willie (1928), one of the first sound cartoons. He went on to appear in over 130 films, including The Band Concert (1935), Brave Little Tailor (1938), and Fantasia (1940). Mickey appeared primarily in short films, but also occasionally in feature-length films. Ten of Mickey's cartoons were nominated for the Academy Award for Best Animated Short Film, one of which, Lend a Paw, won the award in 1942. In 1978, Mickey became the first cartoon character to have a star on the Hollywood Walk of Fame.
Beginning in 1930, Mickey has also been featured extensively as a comic strip character. His self-titled newspaper strip, drawn primarily by Floyd Gottfredson, ran for 45 years. Mickey has also appeared in comic books and in television series such as The Mickey Mouse Club (1955–1996) and others. He also appears in other media such as video games as well as merchandising, and is a meetable character at the Disney parks.
Mickey generally appears alongside his girlfriend Minnie Mouse, his pet dog Pluto, his friends Donald Duck, and Goofy, and his nemesis Pete, among others (see Mickey Mouse universe). Originally characterized as a mischievous antihero, Mickey's increasing popularity led to his being rebranded as an everyman, usually seen as a flawed, but adventurous hero. In 2009, Disney began to rebrand the character again by putting less emphasis on his pleasant, cheerful side and reintroducing the more mischievous and adventurous sides of his personality, beginning with the video game Epic Mickey.[3]
Source: http://en.wikipedia.org/wiki/Mickey_Mouse

AUDIO
VÍDEO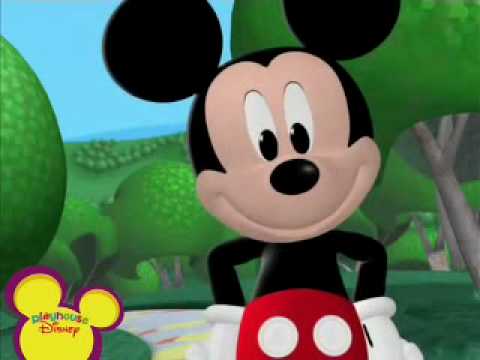 Hola a todos, soy yo, Mickey Mouse.
Oye, queréis entrar en mi casa?



Pues muy bien, vamos allá.



Jaja, casi se me olvida,
para que la casa aparezca
tenemos que decir las palabras mágicas
Miska, Muska, Mickey Mouse.



Repetidlo conmigo:
Miska, Muska, Mickey Mouse



M-I-C-K-E-Y M-O-U-S-E
Ese soy yo
M-I-C-K-E-Y M-O-U-S-E
Es la casa de Mickey Mouse
entra y te divertirás



Es la casa de Mickey Mouse
Pasemos lista:
Donald
-Presente
Daisy
-Presente
Goofy
-Presente
Pluto
-Guau, guau
Minnie
-Jaja, Presente
Mickey
-Presente



Es la casa de Mickey Mouse
entra y te divertirás
M-I-C-K-E-Y M-O-U-S-E.
Más información sobre Mickey Mouse
Mickey Mouse es un personaje ficticio de la serie del mismo nombre, emblema de la compañía Disney. Creado el 18 de noviembre de 1928, este antropomórfico ratón tiene un origen disputado. La leyenda oficial explica que fue creado por Walt Disney durante un viaje en tren, y que su nombre inicial fue Mortimer, pero que cambió a Mickey a petición de su esposa, Lillian. Según Bob Thomas, la leyenda del nombre es ficticia, y cita el caso de un personaje llamado Mortimer Mouse, que nació en 1936, tío de Minnie Mouse.[1] La versión más verosímil es que el personaje fue creado por el dibujante Ub Iwerks, a petición de Disney, para compensar la pérdida de los derechos de Oswald, el conejo afortunado, a manos de la Universal. Lo cierto es que Mickey no es más que una variación del personaje de Oswald.[2] A Walt Disney hay que atribuirle tanto la voz del personaje (le dio voz durante 17 años) como la personalidad y el carácter del ratón:
Su cabeza era un círculo con otro círculo a modo de hocico. Su cuerpo era como una pera y tenía una cola larga; sus patas eran tubos y se las metimos en zapatos grandes para darle el aspecto de un chiquillo con el calzado de su padre.
The Walt Disney Company celebra el nacimiento de Mickey el 18 de noviembre de 1928, a raíz del estreno de Steamboat Willie, primer cortometraje sonoro de dibujos animados, y tercera aparición del ratón.[3] Walt Disney prestó su voz al personaje desde 1928 hasta 1947, cuando fue sustituido por el técnico de sonido Jimmy MacDonald. Desde 1977 la voz es de Wayne Allwine hasta 2009 desde entonces es interpretado por Bret Iwan. A lo largo de los años Mickey ha aparecido en dibujos animados, tiras cómicas, videojuegos, y se ha convertido en el icono de la compañía Walt Disney.
Source: http://es.wikipedia.org/wiki/Mickey_Mouse